BIG FAN
The new Arienti series with large diameters and more technologic blade profile.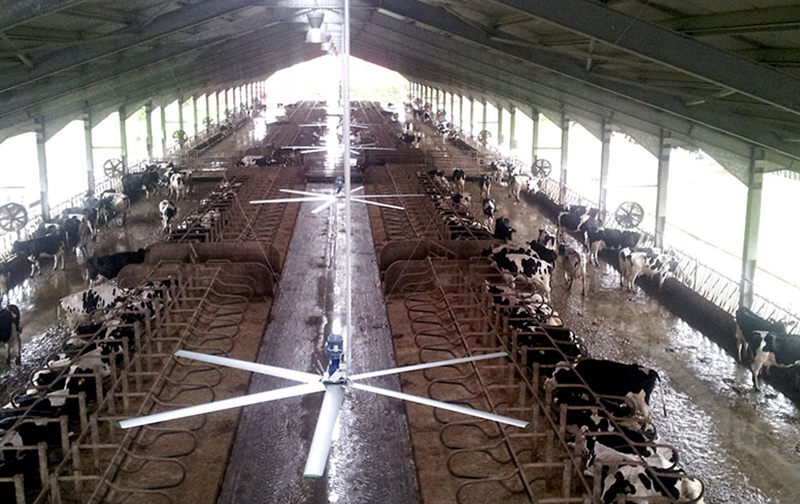 Energy saving, high performance.
With the large diameters and high-tech wing profiles of our ceiling fans, you can combat heat stress and significantly reduce your animals' discomfort. The operation of the system is guaranteed by a multifunctional electronic control unit that manages temperature, relative humidity, speed and the temperature perceived by the animal "THI".
Absolute safety is achieved with the aluminium anti-fall blades. Perfect functionality with a low rotation speed, maximum silence, and a valid wing profile that optimises performance and air volume. The motor reducers with the possibility of an inverter incorporated in each machine. The BIG FAN can be used in both summer and winter seasons, always with excellent climatic results.
The Bigfan is also available in a Brushless motor version.
The novelty of using new generation Brushless Torque motors guarantees considerable energy savings, while maintaining the same air flow performance, and maintenance is reduced due to the lack of a gearbox.
The Brushless Motor is driven by dedicated electronics, completely enclosed in a watertight box (IP55) with plenty of fins for heat dissipation.
A ventilation system consists of:
BigFan, in version with asynchronous motor with a diameter of 3 to 7 metres
Fixing brackets, galvanised carpentry elements for fixing to the ceiling
Inverter control unit: for driving the motor
Automatic control unit: electronic unit for automated system management, temperature and/or relative humidity (THI) detection
With the large diameters and the most technologically advanced wing profiles of our ceiling fans you can combat heat stress and significantly reduce the discomfort of your animals.